Fast set-up

Servers are in stock and immediately at your disposal

Flexible solution

Unlimited performance whenever you need it

Safe location

Our data centers are located in the heart of Europe
All prices are exclusive of VAT, unless stated otherwise. You will pay in pounds (GBP). | Billing | FAQ

Prosím čekejte.
Zpracováváme vaši objednávku.
Technology

Professional data centers
The service is operated in a secure data center company with eighteen-year history. Thanks to Dell Fresh Air 2.0, the data center is also environmentally friendly. Dell Fresh Air Cooling utilizes fresh air from outside to cool the data center.

Dell cloud platform
Our cloud platform is built on a brand platform developed by the leading producer of Dell servers and technologies.  They use high-end Power Edge servers with redundant components powered by powerful Intel Xeon processors.

VMware virtualization technology
MasterDC exclusively uses products from VMware, the leader in the virtualization field, to virtualize physical servers. More than 500,000 customers selected this reliable and robust virtualization platform because of its innovative and exceptional character.

Protection against DDoS attacks
Optionally, we also offer the connection for effective protection against DoS and DDOS attacks. The Radware Defense Pro x420 solution is capable of filtering up to 40 Gbps.
How will you pay?
Billing takes place monthly, always on the first day of the month. You pay for the actual month. We prefer payment via bank transfer but payment by credit card through the secured gateway or via PayPal is being supported as well. Activation of services may be subject to a one-time installation fee. Unless stated otherwise, all prices are exclusive of VAT.
Become a part of MasterDC
Services are operated in MasterDC data centers with first-rate customized equipment and a high level of security. Data center premises are monitored and everything is recorded by security cameras.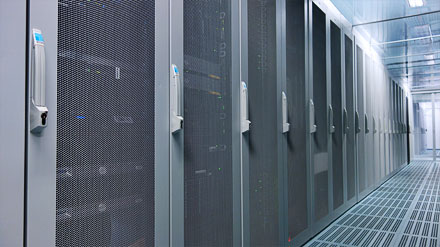 ---
FAQ
How will I control my cloud?
You control your cloud server by using the vCloud Director interface. The activation e-mail which you receive after setting up the service contains the URL for logging in, your login, and also instructions on how to manage your server. Through this interface you can turn it off, turn it on or reboot it, connect your CD drive or ISO file as a virtual drive to the server, etc.
---
What can I operate in the cloud?
The MasterDC cloud platform is a cloud-based service of the IaaS (Infrasructure as a Service) type. Therefore, the service enables customers to use an infrastructure cloud in the form of a virtual hardware on which they can run applications that they would otherwise operate on physical servers. In the cloud, you can run information systems, mail servers, databases, websites and more. It is an ideal solution for projects suffering from significant fluctuations in loading and traffic levels.
---
Can I use my own operating system license if I have one?
Unfortunately, you cannot use your own operating system license. Licenses intended for use in the cloud-based environment have been pre-installed in the cloud-based platform.
---
How can you guarantee the availability of 99.99 %?
We can afford to guarantee such high availability of services through the quality hardware and virtualization technology that we use. In practice, this contractual guarantee means that the duration of downtimes per calendar year may not exceed 53 minutes.
Can we advise you
Leave us your number. We'll call you back.
---
I agree to receive commercial communications in electronic form from MasterDC.