Root access

Administrator rights to the server including SSH access go without saying

Dell and Foxconn technology

Brand-name servers we would buy ourselves

Guaranteed technical intervention

We will take action against events of hardware failure within 60 minutes at the latest
All prices are exclusive of VAT, unless stated otherwise. You will pay in pounds (GBP). | Billing | FAQ

Prosím čekejte.
Zpracováváme vaši objednávku.
Technology

Ecological data centres
Dedicated Servers are housed in secure datacenters of Masterdc.com with more than twenty years of experience. Connectivity to servers is provided by redundant 10 GE lines.

Dell servers
For dedicated servers, we exclusively select DELL as the leading producer of server hardware and technology. Offered servers are members of the top-class PowerEdge T20 series.
Foxconn servers
In addition to Dell, we also offer Foxconn servers with the best performance, quality and price ratio. All kits have hot swap disks and dual power.

Protection against DDoS attacks
Optionally, we also offer the connection for effective protection against DoS and DDOS attacks. The Radware Defense Pro x420 solution is capable of filtering up to 40 Gbps.
How will you pay?
Billing takes place monthly, always on the first day of the month. You pay for the actual month. We prefer payment via bank transfer but payment by credit card through the secured gateway or via PayPal is being supported as well. Activation of services may be subject to a one-time installation fee. Unless stated otherwise, all prices are exclusive of VAT.
Become a part of MasterDC
Services are operated in MasterDC data centers with first-rate customized equipment and a high level of security. Data center premises are monitored and everything is recorded by security cameras.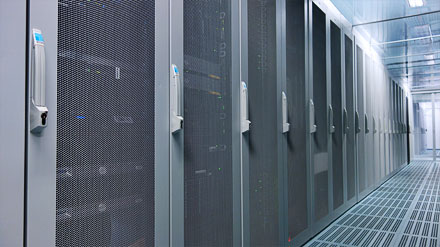 ---
FAQ
What kind of services is a dedicated server best suited for?
Dedicated server will best serve projects and applications that have high emphasis on performance, security and stability. For example, running a powerful database, applications requiring extremely low network latency or systems directly working with physical hardware.
---
Will I have full administrator access?
Yes, of course. The server administration will be completely in your hands. You will be able to install the necessary software yourself, update your applications, and perform a backup. The dedicated server will only be yours, so you will never have to share it with anyone else.
---
How will I control my server?
You will have an Administrator account on the dedicated server, and along with the login information to the Customer Information System.
---
How many IP addresses are included in the price?
By default, each dedicated server provides 1 IPv4
Can we advise you
Leave us your number. We'll call you back.
---
I agree to receive commercial communications in electronic form from MasterDC.